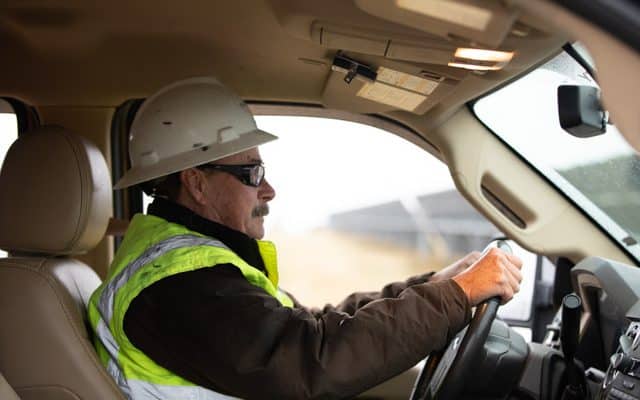 Today Silicon Ranch says goodbye to an institution of our organization as we bid a happy retirement to our one and only Director of Construction and Safety, Jeff Lee. During his time with us, first as a contractor and then as a full-time member of our team, Jeff directly oversaw the construction of Silicon Ranch's first projects. Back in the days when a 200kW rooftop project was a huge win for Silicon Ranch, Jeff was on the rooftops managing the installation of these key projects, helping to establish the Silicon Ranch brand and our reputation for "square corners."
He went on to construct the first utility-scale solar power projects in Tennessee, including the Volkswagen facility in Chattanooga — then the largest in the state — followed by the largest project east of the Mississippi at the time, our Social Circle facility in Georgia. In 2015, he officially joined the Silicon Ranch team and since that time, Jeff has overseen the building of our entire project portfolio and made significant contributions to who we are as a company and our present position as a leader in our industry. Simply put, Jeff has helped us grow from a startup to a scalable company prepared to meet the demands of our growth ahead.
With that said, we wanted to take this opportunity to have one final conversation with Jeff and highlight this team member who quite literally helped us "build" this company and garner our reputation as a trusted partner who has delivered 100% of the projects we have contracted in our history.
Q: Jeff, where did you grow up?
A: I was born and raised in Phoenix, Arizona.
Q: What was your first job?
A: I went to work for a plumbing company while I was still in high school and started as a ditch digger. By the time I was a senior in high school I was running a six-man crew.
Q: What brought you to the solar industry?
A: Actually, my dad retired from APS [Arizona Public Service Electric] as well. That's where I first retired from in 2010. So, I went to work for the electric utility where I started out in the mail room and worked my way up from there, got an apprenticeship, served my apprenticeship in Instrumentation and Process control, and later on expanded that to electrical as well. And then basically in 2006, the utility had an R&D group and they presented a proposal to me. At that time I was the power plant manager, and I had about 1300 vacant acres that we owned around the power plant. They wanted to build a solar thermal project as a research and development site. So, I made the proposal to the VP of Generation, and he said, "What? Are you going green on me?" I said, "No, but we all know we've got to look for alternatives," and he said, "Well if you think it's viable, go for it."
That's how I got my first foot in the door on renewable generation. I built that [project]–it was a 1MW solar thermal with an organic rank and cycle turbine gen set. And I built and owned and operated it up until the time I retired. Pete Candelaria, [who is today] Silicon Ranch's Chief Development Officer, worked for the project at the time and actually was a project engineer on that solar research and development site. So, I had some background with him. And Pete's the one that hired me at Phoenix Solar. He called me up a couple months after I had retired and asked if I was getting bored. He thought he might have a job for me. And that's when I went to work for Phoenix Solar doing construction site management. And the very first project we built was for Silicon Ranch. It was the Pulaski site.
It [Pulaski] was kind of funny, at that time the state of Tennessee basically had only one inspector that was inspecting solar sites. And he came out to inspect our bonding and grounding, and he hooked up his meter to the frame of the modules and didn't get any response out of his meter and said, "You're no good. You don't have bond." And I said, "Yeah I do." And he said, "No you don't. Look." And I said, "Let me see your meter probe." I actually had to scratch through the anodizing on the frame, and then it sounded off and showed that we did have a bond and were connected to earth ground. And I said, "Yeah anodized is non-conductive. That's why we have to use WEEB clips." He said, "Well I've learned something new. I have to go back about 40 miles to another site, because I just dinged them for the same thing."
Q: How have things changed across the industry and within our company?
A: There's been major changes. We've seen a big shift. We've seen the energy industry, on the conventional side, they're closing down coal-fired power plants that were basically the base load and going into rapid start combusting turbines, you know natural gas fired. And they're relying more heavily on the nuclear side for base loads. It's been a big shift. And the utilities are actually getting much more involved with owning solar power plants as well. And you know the same thing with Silicon Ranch. It's grown leaps and bounds here in just the last two years, but you know when I started with them, basically it was Matt, Reagan, the Governor and they had one gentleman doing the billing. And look at us today. We're 70 plus people now!
Q: How has it changed in terms of safety and construction?
A: You know it's come a long way. A lot of the EPC contractors, they used to be strictly a 'blow and go.' And coming from a utility background, I've always enforced safety as a number one [priority]. So I started enforcing it with the EPC contractors, and I got a little push back every once in a while, but they realized that [they've] got the liabilities just like we do as far as OSHA compliance, and we've just got to make sure we're doing it the right way. And we want everybody to go home the same way they came to work in the morning, or as I used to like to say, "go home in better shape than when they came to work."
Q: What's been the biggest highlight of your time here at Silicon Ranch?
A: Probably getting things kicked off and getting management to see the light in the rear-view that we needed more site managers and getting those site managers, which we've done in the last two and a half years or so.
And then the other was the little bit of work I did with them when Shell came on board getting safety data and all of that. Because not only do I do the construction, but I manage the safety as well. And getting reporting set up and getting the contractors to report on a quarterly basis their OSHA numbers for medical attentions and any first aids.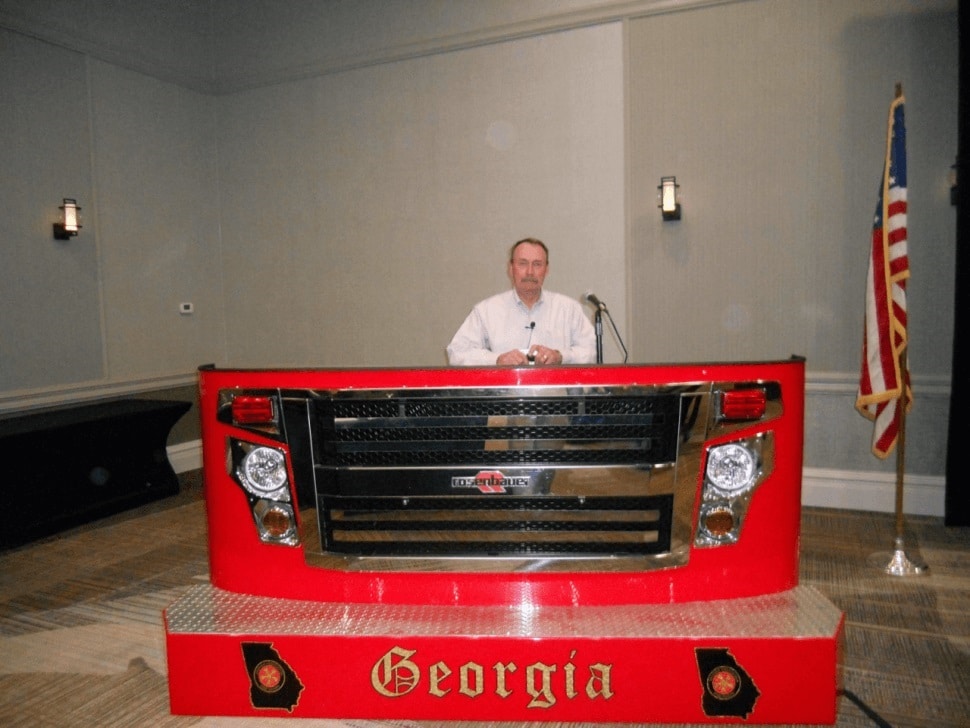 One of the other big highlights was because of my safety background. When I was at the electric utility down in Tucson, I lived out in a rural community, and we had a volunteer fire department, which I was a member of and eventually became the fire marshal of that department. I was asked to do a presentation to the Georgia Association of Fire Chiefs at their annual conference in Savannah, Georgia and so I did that and put together a slide-deck presentation and allowed them to utilize that slide-deck to take back to their pertinent departments and perform that training within their departments to give them a better understanding of the inner workings of a utility-scale solar power plant.
Q: Where would you like to see Silicon Ranch go?
A: I'd like to see them, and I think it's achievable, be the first and foremost solar company and be top dog. We've come a long ways, and Silicon Ranch has got a really unique business model in the fact that we're a developer, owner, and operator for the long-term. A lot of these companies are developers and they get a PPA and then the flip the project. They never even see construction. Others get in and they'll take it through construction, but as soon as they go COD, that's when they sell it. And that's where we're uniquely positioned, and I think that's going to drive us all the way to the top. It's why our standards are a little tougher than others because we know we're going to own it and operate it for the long term. So, we want the best quality we can get right from the start.
Q: What mark do you hope you've left on Silicon Ranch?
A: That I took all projects under my wing as my own personally. When I was doing them and then once we got the project managers, I worked to instill that same sense of ownership in them as "Hey this is your project. You own it. Let's make it the best project it can be." And then that I brought forth to light the amount of safety that's involved and what needs to be done and why. So yeah, I think I've made a pretty good mark with them, and I think a lot of people didn't understand what I did with my job. Now that I'm retiring and we started to set down and divvy up what the director of construction does and what the safety does it's become very apparent that there's not a lot of people who are capable of or willing to do as much as I've done for the company and I think that they are really starting to realize and understand that. You know I'm just kind of a unique individual because of an extensive background in electric generation. By the time I retired from APS, my family, between my dad, myself, and two sons, had seventy-five years of service between us working at APS, which is a pretty big milestone. My dad retired after 35 years. I retired after 34 years. My youngest son left a couple of years after my retirement and went to work for another engineering firm and my oldest one still works at the Palo Verde Nuclear Generating Station.
Q: What are you most looking forward to in retirement?
A: Spending time with my wife, getting to travel, and see my grandkids more often, and a whole lot more hunting and fishing, that's for sure.
Q: Any takeaways you would like to leave with your fellow Ranchers?
A: Just know you're working for a hell of a company and give them all you got.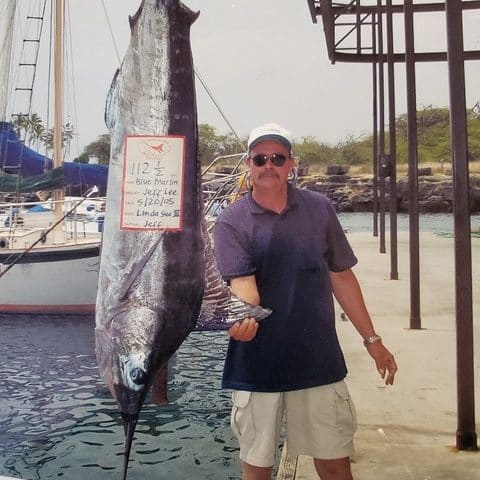 We will sorely miss Jeff's deep electrical experience, construction and safety know-how, sharp mind, integrity, humor, overall good nature and culinary gifts. That said, we're fortunate that we'll be able to lean on his expertise as a consultant as we continue to grow and improve our safety protocols. Jeff will always remain a part of our Silicon Ranch family. We wish him peace and joy in his much-deserved second retirement.