Solar Farms:
What communities need to know
A "solar farm" is a collection of interconnected solar panels that are strategically placed to maximize their ability to capture sunlight and convert it to electricity. Sunlight contains little packets of energy called photons. When photons from the sun reach the solar panels, it causes energy electrons within those panels to move and in turn create an electrical current.
The electric current is then sent to an inverter which converts it from DC to AC. That power is then pushed out from the solar site onto the transmission lines where the electricity is then distributed to households and businesses.
A solar farm is also sometimes called a solar project, solar power plant, solar ranch, or solar facility.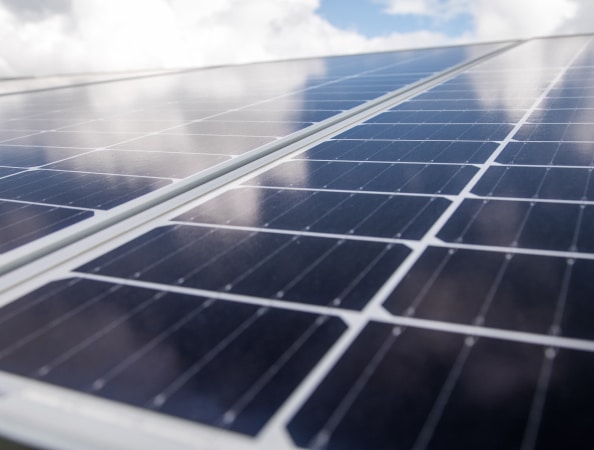 Does it matter who builds and operates a solar farm?
Yes!
The solar energy industry has grown by leaps and bounds since Silicon Ranch was founded in 2011, yet it is still a relatively immature industry with a wide range of participants. What has become evident over this period is that not all solar companies are created and operate equally.
As the long-term owner and operator of every project we develop—a distinguishing characteristic of our business model—we are uniquely motivated to become active members of the communities where we locate for the life of the project. We're here to help communities like yours build on their unique legacies while respecting local history and identity.
We buy and own the land we use
Our preference to own the land we build on, making us property owners and taxpayers in the local community, distinguishes us from other solar developers. We never sell or transfer our projects; we own, operate, and manage each site for the life of the project and have a 100% track record for successful delivery.
We restore and protect the land
We recognize our responsibility as land stewards and work to improve soil, water, natural habitat, and air quality on and around our solar farms using Regenerative Energy® practices.
We boost local economies
Our solar farms inject communities with significant new tax revenues that support infrastructure, schools, and other community-identified priorities, without requiring government services in exchange. In doing so, those communities are able to grow on their own terms.
Spotlight on: Hattiesburg Solar Farm
The residents of Hattiesburg, Mississippi are neighbors to the Hattiesburg Solar Farm.
Silicon Ranch constructed the facility in partnership with Mississippi Power, the Area Development Partnership, the city of Hattiesburg, Forrest County, and Silicon Ranch. The facility has been producing renewable solar energy since 2017.
"Having Silicon Ranch here has only added to and diversified an economy we already had… For the longest time, this site sat unused. It was a vacant piece of property. And now it generates funding for not only our schools, but also the community – and it didn't require a lot of us."
– Toby Barker, Mayor, City of Hattiesburg MS
Development
We work with a community like yours to find the right property for a solar project. We want to make sure that the land, sun exposure, and other factors, including proximity to the electric grid, are just right.
Collaboration
We meet with community leaders to create a project plan that benefits local stakeholders and that supports local community initiatives.
Purchasing
We buy the land from the property owner and own it for the long term. We design our projects with reliability and the highest performance in mind over a 40-year useful life.
Construction
Building a new solar project means new job creation. Each solar project requires skilled labor and a talented workforce. In addition to training opportunities, Silicon Ranch works to hire from the local labor pool and the military veteran community.
Regeneration
Silicon Ranch designs, constructs, and manages its projects using regenerative land management practices called Regenerative Energy. Through Regenerative Energy we are able to help restore soil health, biodiversity, and water quality on and around our solar farms.
Operation
The solar arrays, or solar panels, are mounted on one of two racking systems, fixed mount or tracking. While fixed mount racking systems are stationary, tracking systems are constructed to move the panels with the sun from sunrise to sundown. A computer-controlled program makes sure the panels capture as much sunlight as possible throughout the changing seasons.
Energy Production
Sunlight contains packets of energy called photons. When photons from the sun reach the solar panels, they cause electrons within those panels to move, creating an electrical current. The current is sent to inverters, which convert it to a form of power that can be used on the electric grid. The power is then sent to a substation through high-voltage power lines, where electricity is distributed to the power grid. The power grid then sends that electricity to homes and businesses.
Maintenance
Our state-of-the-art network operations center helps Silicon Ranch monitor performance of our entire portfolio coast to coast. As the long term owner of every project we develop, Silicon Ranch has a vested interest in seeing that our projects perform as designed for the life of the project. Should a solar farm underperform for any reason, Silicon Ranch takes immediate, corrective measures through our network of on-site service personnel.
Decommissioning
At the end of the solar project's useful life, it will either be repowered with newer solar technology or decommissioned. Decommissioning means that all components are removed and the ground is stabilized. As the long-term owner of our solar farms, Silicon Ranch takes full responsibility for safely decommissioning our projects, recycling and repurposing equipment, and leaving the site in as good of, if not better, condition than when we first find it.
Learn more about Silicon Ranch's focus on domestic manufacturing
"Silicon Ranch is one of the largest owners of solar assets in the United States. And they have a deep commitment to sustainability and regenerative solar, both in terms of agriculture but also creating a circular economy. And we're thrilled to be working with them in a deep partnership to scale this for the industry.
By partnering with us and to recycle the panels, they're sending a signal to the rest of the industry and helping to create a collaborative environment and consensus for the industry to get together to recycle all these end of life panels and create that circular economy."
– Suvi Sharma, Co-Founder and CEO of SOLARCYCLE, Inc