Leave a legacy with your land
Ensure your land is being stewarded responsibly with a renewable energy solution designed, constructed, and managed in alignment with the surrounding community and its values to regenerate soil health.
Every Silicon Ranch solar energy project starts with landowners like you who want to make a positive impact on the future of their community.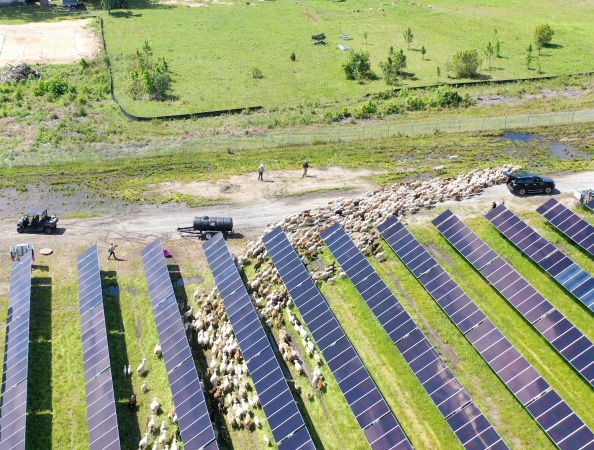 Does your property meet the needs of a solar project?
When we evaluate a site for solar facility development, we start with these criteria:
Meet Turkey Creek Solar Ranch
Watch to learn how Silicon Ranch's regenerative approach to the Turkey Creek Solar Ranch is keeping the land in agricultural production with holistic planned sheep grazing, reusing materials instead of filling landfills, and sequestering atmospheric carbon in the soil.
"The farm will grow up in a hurry, you won't believe it. Once their solar panels are up, they're going to graze it – they plan on running sheep underneath the panels, and I think they'll graze cattle on the outskirts of the farm. So it's going be an active farm again… It was an opportunity that we couldn't pass up, knowing that it's a clean industry and they're gonna protect the land.
"When we decided to explore options for the farm that had been in our family for three generations, we sought out a partner who would respect the land, the community, and continue the tradition of being a good neighbor. We found that partner in Silicon Ranch. From the outset of the project, and throughout the construction and operation of the solar array, Silicon Ranch engaged the community, over-delivered on every commitment… The solar facility is attractively designed, well-maintained, and has become a point of pride for the community. Based on my family's and our community's experience, I strongly recommend Silicon Ranch as a reliable and trustworthy partner."
Your land is in good hands
At Silicon Ranch, we keep our promises, including our commitment to being a responsible neighbor, steward, and pioneer in the solar energy industry.
When Silicon Ranch purchases land for a solar project…
We give people reliable, cost-effective choices for their source of power.
We create long-term community value in the form of capital investment, a significant boost in tax revenue, and job creation, without requiring government services in return.
We take excellent care to protect and restore the health of the land on which we build our projects.
Have questions about selling your land for a solar project?