Silicon Ranch is committed to expanding the benefits our projects provide in all corners of the renewable energy industry, and we're just getting started.
"We're pleased to work with Silicon Ranch, which has a trusted track record as a positive contributor to communities as a neighbor, landowner, and solar developer. TVA's Generation Flexibility Program gives the people of Henry County the safe, reliable, affordable energy they've come to expect. This inaugural local project also helps to ensure Tennessee's energy mix becomes more sustainable without compromising energy independence over the long term."
"As we continue to support our global operations with 100% renewable energy, we are pleased to expand our partnership with Silicon Ranch, a trusted partner who shares our commitment to have a positive impact on the communities where we locate."
"The model that Silicon Ranch has implemented here, where large flocks of sheep are managing the land and vegetation under the solar panels, is the future of responsible solar development in the US, and that future was started in Georgia. This innovative renewable energy project keeps land productive, creates new good-paying jobs for our rural workforce, and puts Georgia agriculture in the spotlight of innovation on the national stage."
At Silicon Ranch, we build every solar project with a community mindset: we're here to help make communities like yours healthier and stronger.
Because we own and operate each project for the long-term, when we build a solar project in your area, we become your neighbor and an active member of your community.
Our projects help to drive economic growth in your region, restore the health of the land we steward, and contribute to your community's legacy for generations to come, all while boosting the local tax base.
Bringing a renewable energy project to your community is just the beginning.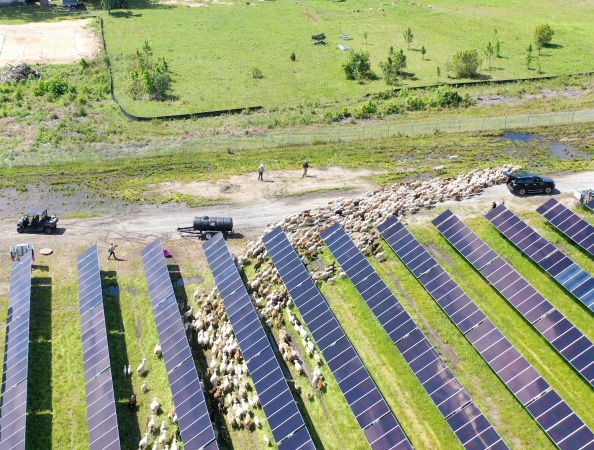 Learn more about Silicon Ranch's focus on domestic manufacturing
"Silicon Ranch is one of the largest owners of solar assets in the United States. And they have a deep commitment to sustainability and regenerative solar, both in terms of agriculture but also creating a circular economy. And we're thrilled to be working with them in a deep partnership to scale this for the industry.
By partnering with us and to recycle the panels, they're sending a signal to the rest of the industry and helping to create a collaborative environment and consensus for the industry to get together to recycle all these end of life panels and create that circular economy."
– Suvi Sharma, Co-Founder and CEO of SOLARCYCLE, Inc