Millington, TN (July 7, 2020)—More than 1,000 ewes have come to the Millington Solar Farm to help control vegetation as part of a "regenerative energy" initiative.
Silicon Ranch Corp., in partnership with Cabriejo Ranch, implemented the program, which uses grazing by sheep to help control vegetation around the farm's solar modules. With more than half a million modules installed on the 420-acre farm, controlling vegetation so it doesn't interfere with the modules getting sunlight is essential.
"The industry has always looked at the vegetation and the land management as a liability," said Michael Baute, Silicon Ranch Director of Regenerative Energy and Land Management. "We look at it as an asset. And when we can manage that asset in the proper way, we can end up creating these additional co-benefits from a very specific land management strategy."
Large flocks of sheep are rotated between sites to meet various objectives. Typically, the flocks graze for short amounts of time in a particular area within the solar site and then move to new ground or a new site entirely, allowing the land to rest so vegetation can recover.
Cabriejo Ranch supports Silicon Ranch's Regenerative Energy platform on more than 1,500 acres in Tennessee, Mississippi and Arkansas, and the partnership's portfolio is expected to grow by an additional 600 acres by the end of 2020.
Experienced ranchers manage a specific style of grazing, called adaptive multi-paddock grazing. The timing, intensity and frequency of grazing are controlled to mimic the natural relationship between native grasslands and large herds of grazing animals. The livestock feed exclusively on foraged food, without hormone implants or antibiotics.
"So we're using agriculture to meet the vegetation management needs of the solar industry," said Baute, whose background is in ranching and soil sciences. "We've essentially turned this liability, this cost center, into an asset. We're actually mimicking the way natural grasslands co-evolved with ruminate grazing animals."
The result is improved health of the local ecosystem, including better biodiversity, more organic matter stored in the soil, reduced erosion and surface runoff and cleaner water.
More than 1,500 ewes graze at Silicon Ranch solar farm on Monday, July 6, 2020 in Millington. (Mark Weber/Daily Memphian)
"Nature-based solutions are really the portal that we look at everything through," Cabriejo Ranch owner Trent Hendricks said. "It's wonderful thing because not only are we producing clean energy, but the land is still producing food and it's doing its bit to offset negative environmental challenges that may come from an urbanized world."
He describes the processes happening today at the farm as a combination of the best of the old and the best of the new.
The solar farms are also providing a valuable career path for people looking to get into the agriculture industry. Because agriculture is such a capital-intensive industry, it can be very difficult for young people or people new to the industry to get involved.
In terms of the energy production at the site, the Millington solar facility is performing solidly and meeting performance expectations with the Tennessee Valley Authority, according Silicon Ranch Director of Asset Operations and Performance Engineering Dylan Sontag.
The solar farm's goal is to provide clean, renewable energy for TVA's grid, which in turn allows Memphis Light, Gas and Water Division to reduce electrical costs for its customers.
The solar facility in Millington is on 348 acres of private land Silicon Ranch purchased from the Millington Industrial Development Board and 72 acres it leases from the U.S. Navy.
"We recently interconnected our facility directly to the Millington Navy base and were able to work quickly with our partners at TVA to modify our power plant's voltage control scheme to create a healthier grid at the Navy base for them to be able to more effectively continue their work for our country," Sontag said.
###
Read the original article at The Daily Memphian.
More than 1,500 ewes graze at Silicon Ranch solar farm on Monday, July 6, 2020 in Millington. (Mark Weber/Daily Memphian)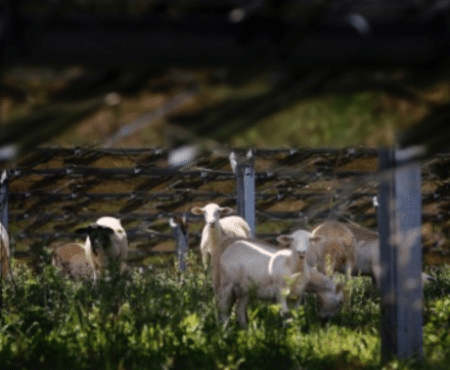 Share Post
Share on facebook
Share on twitter
Share on linkedin
Share on pinterest