Facebook, Google Named 2019 Tennessee Valley Solar Champions
FRANKLIN, Tenn. — Today the Tennessee Solar Energy Industries Association (TenneSEIA) presented its 2019 Solar Champion Award to Facebook and Google, two forward-thinking businesses who recently inspired the development of nearly 675 megawatts (MWAC) of solar energy in the Tennessee Valley. The annual award recognizes individuals or entities that demonstrate leadership in support of solar energy deployment in the region.
The ceremony took place during TenneSEIA's 2nd Annual Tennessee Valley Solar Conference, an event that convened more than 200 people for a series of interactive panel discussions featuring data, insights, and perspectives from utility leaders, policy makers, economic developers, technology innovators, financiers, and solar practitioners. TenneSEIA expanded its annual meeting last year to broaden the conversation around challenges and opportunities for the solar industry within the TVA service area that affects 10 million people in parts of seven southeastern states.
"We're thrilled that this event continues to grow so that our members and other stakeholders can explore market developments and opportunities for industry, local power companies, and TVA to work together to develop solutions that facilitate retention, expansion, recruitment, and other positive economic development outcomes for the Tennessee Valley," said Gil Hough, Executive Director of TenneSEIA.
At the evening reception, TenneSEIA unveiled its 2019 Solar Champion Award winners, recognizing Facebook and Google for their role in inspiring the largest procurements of solar energy in TVA history. The utility procured 377 MWAC from two solar projects to support Facebook's data center in Huntsville, Alabama with 100 percent renewable energy and signed agreements for nearly 300 MWAC from two facilities to do the same for Google's data center campuses in Tennessee and northern Alabama.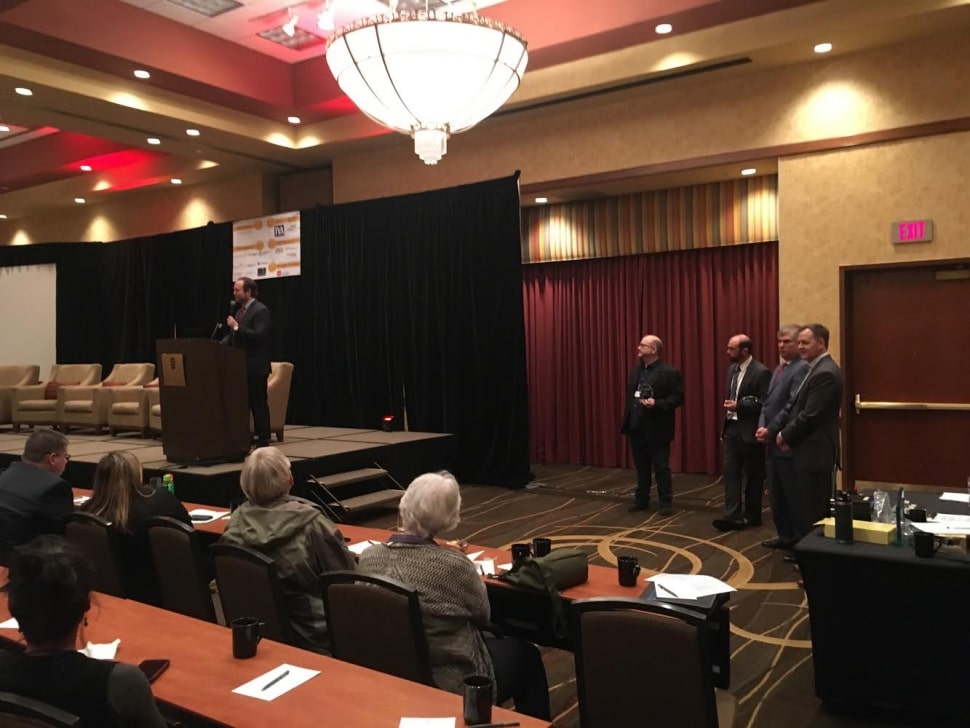 "As companies based in the Tennessee Valley, TenneSEIA members understand that a pillar of the TVA Mission is to support economic development," said Hough. "We applaud TVA for working with the solar industry to help recruit businesses like Facebook and Google to the region, and we look forward to building upon this encouraging momentum in the years to come."
Conference attendees also witnessed TenneSEIA announce the 2019 honorees for its Lifetime Achievement Award. Abigail Ross Hopper, who serves as President and CEO of the national SEIA organization, presented the honor to Silicon Ranch co-founders Matt Kisber and Reagan Farr. The pair were recognized for their contributions to the industry both as public servants and as entrepreneurs.
"TenneSEIA is proud to present our 2019 Lifetime Achievement Award to Matt Kisber and Reagan Farr," said TenneSEIA President Chris Koczaja. "As policy makers they understood the important role of renewable energy to drive Tennessee's economy, and as entrepreneurs they have built Silicon Ranch into a global leader that has anchored a strong industry ecosystem in the region. Today there are more than 165 companies that employ more than 4,500 Tennesseans across our industry value chain."
About TenneSEIA
TenneSEIA is the state affiliate for the national Solar Energy Industries Association and represents the interests of the solar energy industry in Tennessee. The mission of TenneSEIA is to make solar energy a mainstream energy source and realize the full potential of the solar industry in Tennessee. The Association serves as the primary advocacy group for the solar industry in Tennessee.
For more information about TenneSEIA, please visit http://www.tenneseiasolar.com/
Annual Solar Champion Award Winners:
2010 Governor Phil Bredesen
2011 Tennessee Solar Institute
2012 Ted Wampler of Wampler Farm Sausage
2013 Volkswagen N.A.
2014 Greg Williams of Appalachian Electric Cooperative
2015 John Bowers of Pickwick Electric Cooperative
2016 Knox County and Knox County Schools
2017 Dr. Stephen Smith of SACE
2018 City of Lebanon and Jeff Dykes, BrightRidge CEO
2019 Facebook and Google
Annual Lifetime Achievement Award Winners:
2015 Thomas Tripp
2016 Dean Solon, Founder of Shoals Technologies Group
2017 Steve Johnson, Founder of LightWave Solar
2018 Gil Hough, Executive Director of TenneSEIA
2019 Matt Kisber and Reagan Farr, Co-Founders of Silicon Ranch Corporation