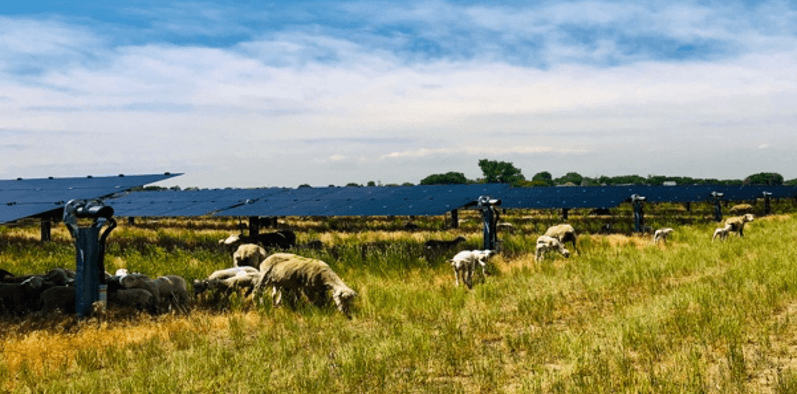 Kersey, CO (June 30, 2020) – Silicon Ranch has begun implementing Regenerative EnergyTM at its Platte Valley Solar Farm in Kersey. Regenerative EnergyTM is Silicon Ranch's transformative, outcome-driven program that co-locates clean electricity generation and regenerative agriculture to manage vegetation, restore ecosystems and biodiversity, sequester carbon, and improve water quality. These measurable and quantifiable outcomes add to the significant environmental, social, and economic benefits of this clean energy project while keeping land in agricultural production.
Silicon Ranch has teamed up with regional partner Craig Scariot of SkyPilot Farm to employ his flock of 100 ewes and 125 lambs though a system of holistic planned grazing at the site. The sheep thrive in the shade provided by the solar panels and keep the grasses from shading the array while restoring the land. Silicon Ranch is monitoring, quantifying, and verifying environmental outcomes at the site, including soil organic matter, a leading indicator of soil carbon sequestration, through application of the Savory Institute's Ecological Outcome Verification assessment methodology.
"Through regenerative agricultural practices, we expect to see rapid land and wildlife improvements, as livestock accelerate the recycling of nutrients, restoring healthy fertile soil that absorbs more carbon and retains more water, and growing biodiversity," says Craig Scariot, Chief Sheep Wrangler at SkyPilot Farm. "Soon consumers will be able to access locally raised solar-lamb by purchasing the pasture-raised meats that were grazed at Platte Valley Solar Farm on our website." 
The 4.45 megawatt (MWAC) solar project is the result of a partnership that includes Silicon Ranch, Poudre Valley Rural Electric Association (PVREA), and the Town of Kersey. The facility is located just south of the Platte Valley High School, and when the partners commissioned the project in 2017, they named it the Platte Valley Solar Farm as a tribute. Plans are underway for Silicon Ranch to partner with the school and Platte Valley FFA to create educational opportunities for students to learn more about the co-location of solar energy and regenerative agriculture, the role this model can play in building resilient energy and food systems, and the additional land and income it can open up to aspiring young farmers who may not otherwise have access to land.
"Kersey prides itself on being a close-knit agricultural community. That's why we look forward to building our relationship with Silicon Ranch and SkyPilot Farm, which through Regenerative EnergyTM puts us at the forefront of ag and energy and provides our schools and students with countless opportunities," Kersey Mayor Gary Lagrimanta explained.
Silicon Ranch owns, operates, and maintains the Platte Valley Solar Farm, which provides reliable, carbon-free power to the more than 40,000 customers that PVREA serves. By introducing Regenerative EnergyTM to the site, the project further supports PVREA's mission to provide safe, reliable, and efficient energy solutions to its members and uphold its commitment to environmental stewardship, including its "80 by 30" goal of powering the communities it serves with 80% renewable energy by 2030.
"Poudre Valley REA is thrilled to see the introduction of an innovative approach to vegetation management, particularly one that aligns well with the culture of a rural community," said Jeff Wadsworth, PVREA President and CEO.
"As the long-term landowner and operator of our entire portfolio, Silicon Ranch is deeply committed to the communities we serve across the country, including right here in Northern Colorado," said Reagan Farr, Silicon Ranch Co-Founder and CEO. "We're delivering Regenerative EnergyTM because we recognize our responsibility and opportunity as a landowner to be a good steward of our land. We're excited about the meaningful environmental, social, and economic benefits this innovative platform will bring to the region, while meeting the demand for both carbon-free, renewable energy and a more decentralized, resilient food system for Coloradoans."
In two years, Regenerative EnergyTM has scaled from a 50-acre pilot to a utility-scale program being implemented on projects comprising thousands of acres across the country, including the only solar energy projects located on land that has been verified as 'regenerative' by the Savory Institute. Silicon Ranch has codified a rigorous set of standards for Regenerative EnergyTM, with a goal of replicating the concept to maximize its potential on more land under management by the solar industry.
###
About Regenerative Energy
Regenerative EnergyTM was established by Silicon Ranch Corporation in 2018 as a transformative, replicable new model for the solar industry to improve the way the industry manages its land and positively impact millions of acres over time. By building and operating solar power plants and caring for land in alignment with natural systems, Regenerative EnergyTM delivers clean energy, ecosystem restoration, carbon sequestration, and beneficial rural economic impacts. Regenerative EnergyTM is a holistic approach to land management on solar farms that provides a nature-based solution to climate change. For more information about Regenerative EnergyTM, visit siliconranch.com/regenerativeenergy. Everything is connected.
About Silicon Ranch
Silicon Ranch is the U.S. solar platform for Shell and one of the largest independent solar power producers in the country. Silicon Ranch's work with a diverse set of customers across the country, including Fortune 500 companies and electric cooperatives, demonstrates its ability to customize solutions that ensure successful outcomes. The company's operating portfolio includes more than 135 facilities across 14 states from New York to California, including the first large-scale solar projects in Tennessee, Georgia, Arkansas, and Mississippi. To learn more, visit siliconranch.com and by following the company on Facebook, Twitter, and LinkedIn.
About Poudre Valley REA
Poudre Valley Rural Electric Association, Inc. (PVREA) is a distribution cooperative owned by the members it serves. PVREA was founded in 1939 by its members to provide reliable electricity in Northern Colorado. Today, PVREA covers 2,000 square miles of service territory in Larimer, Weld, and Boulder counties and over 4,000 miles of overhead, underground and transmission line combined, serving over 45,000 homes and businesses.
About the Town of Kersey
The Town of Kersey Colorado is home to just over 1600 people. It is a close knit agricultural community and home of the Platte Valley School District, one of the most highly sought after school districts in Northern Colorado. The Town of Kersey stared as the Town of Orr, which only lasted a few years before the name was officially changed in 1908. Kersey
is nestled in central Weld County just about 10 minutes east of Greeley along the Highway 34 corridor which connects Weld and Morgan County together. Being a small rural community, revenue for the Town is most dependent upon oil production in the area; Weld County is one of the leading oil producing counties in the United States. The citizens in Kersey pride themselves in providing a welcoming smile to those passing through from the Front Range to the Eastern Plains on Colorado. Within Town limits there are two fueling stations, a small liquor store, coffee shop, salon, retail store as well as a couple family owned restaurants and a variety of other 'small businesses' that help the local economy. You can always rest assured a stop in Kersey will come with a welcomed smile and appreciation for the supporting local businesses and families!