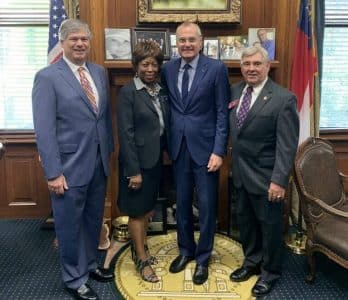 ATLANTA, Ga., October 30, 2018 – Lieutenant Governor Casey Cagle joined members of the Georgia House of Representatives and Clay County officials in the Rotunda at the Georgia State Capitol today to announce a significant capital investment that is coming to Clay County. Silicon Ranch Corporation, the U.S. solar platform for Shell and one of America's largest independent solar power producers, will invest approximately $89 million in two solar projects in the city of Bluffton.
The utility-scale facilities are part of a portfolio of projects announced in June by Silicon Ranch and Green Power EMC, the renewable energy supplier for 38 Georgia Electric Membership Corporations (EMCs). The facilities are scheduled to come online before the end of 2021 and will generate more than 100 megawatts (MWAC) of solar energy, enough clean, renewable power to help serve more than 19,000 homes for the next 30 years.
Deputy Commissioner for Rural Georgia Initiatives Amy A. Carter welcomed everyone to the announcement and thanked Silicon Ranch for their investment in rural Georgia: "On behalf of the Georgia Department of Economic Development, we want to warmly welcome Silicon Ranch to rural Georgia and thank them for this major investment in Clay County."
Lt. Governor Cagle hailed the investment as a victory for rural Georgians: "Growing diverse industry hubs across our rural communities will ensure our state continues to be the nation's number one place to do business – and the impact of this major investment will be felt across Clay County and Southwest Georgia for years to come. Silicon Ranch is truly a leader in solar innovation – and I commend them for investing in Georgia and developing strong partnerships with our electric cooperatives to bring cutting-edge renewable infrastructure to our state."
District 151 Representative Gerald Greene (R., Cuthbert) highlighted the positive impact the investment will have on his district: "This significant capital investment will provide new tax revenues for the county government and the school system, and provide a real stimulus to the local economy in Clay County which, like many rural counties in Georgia, has not benefitted from the growth and prosperity enjoyed by Metro Atlanta and other urban areas."
Clay County Development Authority Chairman Trey Anderson said his organization has worked for years to recruit a solar project to the area: "We are excited to welcome Silicon Ranch as our newest corporate citizen. Over the past couple of years, a significant amount of political emphasis has been focused on Southwest Georgia; however, the changes have been slow to come. Silicon Ranch's decision to build these solar facilities is one of the most significant events we have had in decades. These developments will provide much needed revenue to the Clay County Board of Commissioners, Board of Education, Development Authority and most importantly it will invest in our future by providing scholarships for the students of the Clay County School System."
Silicon Ranch Co-Founder and CEO Matt Kisber served eight years as Tennessee Commissioner of Economic and Community Development and said his company is honored to support rural economic development in Georgia: "Silicon Ranch is committed to the people of rural America who deserve low-cost, clean energy and an economic shot in the arm. They are our fuel and what our company is all about. We wish to thank Green Power EMC, the EMCs of Georgia, and both the Clay County Development Authority and the Board of Commissioners for making this investment possible."
Green Power EMC President Jeff Pratt praised the Georgia co-ops for their commitment to provide low-cost renewable power to their members: "Georgia's EMCs are providing a leading role among electric co-ops in the nation for installed solar capacity, and we are proud to partner again with Silicon Ranch to provide solar energy to them at such an affordable cost. One of the core principles that all rural electric cooperatives share is a 'concern for community,' and we are pleased to know that our work can support economic development in Clay County."
A delegation from Clay County was on hand to witness the ceremony, including members of the Development Authority, County Commissioners, the Superintendent of Schools and members of the Board of Education, and other local government officials. 
###