The Power of Sun and Soil
Among the actions needed to meet the goals of the Paris Agreement, the world must generate more renewable electricity and follow lower-carbon farming practices. With UN Earth Day on April 22nd, Inside Energy reports on the solar company with ambitions to do both.
By Thomas Francis on Apr 17, 2020
When Will Harris learned that a solar project would be built on land bordering his farm in south-west Georgia, USA, his heart sank. A fourth-generation farmer, he believes land is meant to serve natural purposes, like growing crops and grazing animals. In his view, solar panels were a "terribly wasteful" use of farmland.
Expecting a showdown, Harris, who favours blue jeans and a Stetson and speaks with a heavy Southern drawl, invited executives of the company building the solar project, Silicon Ranch, to his farm, White Oak Pastures.
But the two sides did not clash, as Harris expected. Rather, they agreed on an approach that suited them both. Harris would use so-called regenerative farming practices, grazing sheep and managing the vegetation on the land housing the solar farm so it could continue to be used for agricultural production.
Silicon Ranch would not only be generating renewable energy, it would also be using the land to reduce carbon in the atmosphere.
"The solar industry tends to look at land as something that must be managed, a liability," explains Matt Beasley, an executive at Silicon Ranch, which has financial backing from Shell New Energies after agreeing to a minority investment partnership in January 2018.
"As we learned about regenerative agriculture practices from Will and folks he introduced to us, we came to see our land in a new light – as a biological asset where we could capture carbon and improve soil health."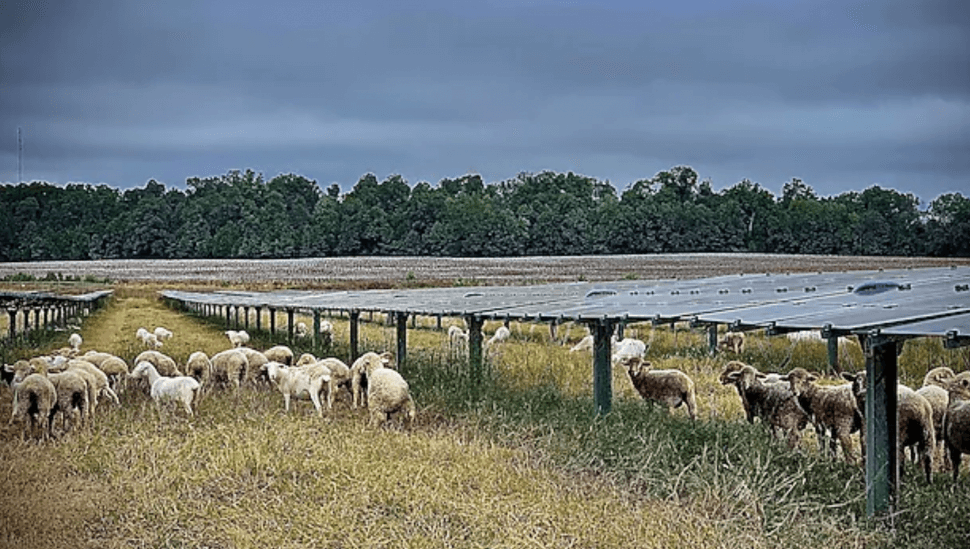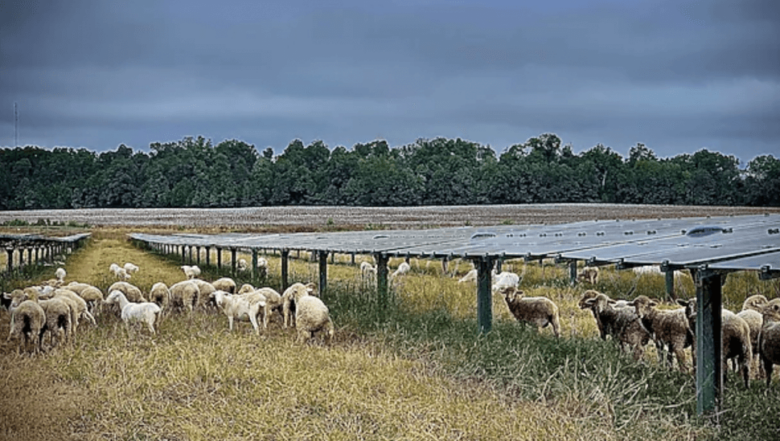 Land for Carbon Capture
Energy production and use is the largest single source of greenhouse gases. But an August 2019 report by the Intergovernmental Panel on Climate Change showed that curbing emissions from agriculture and land use also plays an important role in the global energy transition – the sector contributes nearly a quarter of global greenhouse emissions.
"Agriculture is a significant part of the problem in climate change," says Pete Smith, a professor of Soils and Global Change at the University of Aberdeen in Scotland, who contributed to the IPCC report. "But that also makes it part of the potential solution."
Land's natural ability to absorb carbon offers a way of reducing greenhouse gases. But the tilling of soil in conventional farming releases methane, a greenhouse gas much more potent than carbon dioxide. Chemical pesticides and fertilisers common to conventional agriculture are a risk to run off into nearby lakes and streams.
Regenerative farming focuses instead on the use of natural methods to strengthen soil health, making the land more productive for growing crops while protecting against floods, pollution and loss of fresh water.
Raising Standards for Solar Farms
Silicon Ranch owns and operates more than 135 solar farms across 14 states. Following the meeting at White Oak Pastures, the company developed a new model for land management, trademarked as Regenerative EnergyTM. It involves generating renewable energy while practising regenerative agriculture: managing the land so it acts as a carbon sink that removes more carbon dioxide from the atmosphere than it emits.
Silicon Ranch's model also has the potential to boost local production of both food and energy, helping reduce the impact of disruptions in international supply chains such as those caused by the COVID-19 pandemic.
The company has established a detailed set of standards for Regenerative Energy that guide a plant's design, construction and the management of the land. By making those standards available to others, it hopes to promote these practises across the solar industry.
Managing Methane from Livestock
Pete Smith believes that regenerative agriculture practices, which now occur all over the world, are a good thing for the planet. But methane emissions from grazing livestock still concern him.
"Ultimately, climate change will make it necessary for us to consume fewer livestock products – if not by becoming vegetarian or vegan then by simply reducing our consumption," he says.
Of course, there is no simple way to restrict peoples' diets on an international scale. As such, regenerative agriculture may offer a more practical way of addressing methane emissions from livestock.
Michael Baute, the director of Silicon Ranch's Regenerative Energy business, points out that multi-paddock grazing – that is, using fences to create grazing areas animals can move between – "mimics the evolutionary relationship between native grazing animals and grasslands."
In this sense, regenerative agriculture is less a new trend than it is a return to the days when grazing animals, like bison, moved as herds to avoid predators.
Harris's own farm is evidence that livestock can coexist with ways of carbon cutting through land use. By following regenerative farming practices, White Oak Pastures cancels out the greenhouse gases from livestock, according to a carbon footprint analysis conducted by General Mills, the US food company.
At the same time, consumers get food rich in nutrients.
For Silicon Ranch, if land acts as a carbon sink while also housing solar panels – effectively displacing electricity typically generated by the burning of fossil fuels – it has environmental value on several levels.
"Historically, industrial food production, as with energy production, has been extractive – with significant emissions as a result," explains Baute.
"Now, we're keeping land in agricultural production, we're reducing emissions by producing clean solar energy, and we're removing greenhouse gases from the atmosphere."