Overview of Millington II Solar Farm (Project in Development)
*Funded by Silicon Ranch; no capital investment is required by the state, county, or utilities
Project Map
Below is a project map that provides an aerial map visual of the site's location.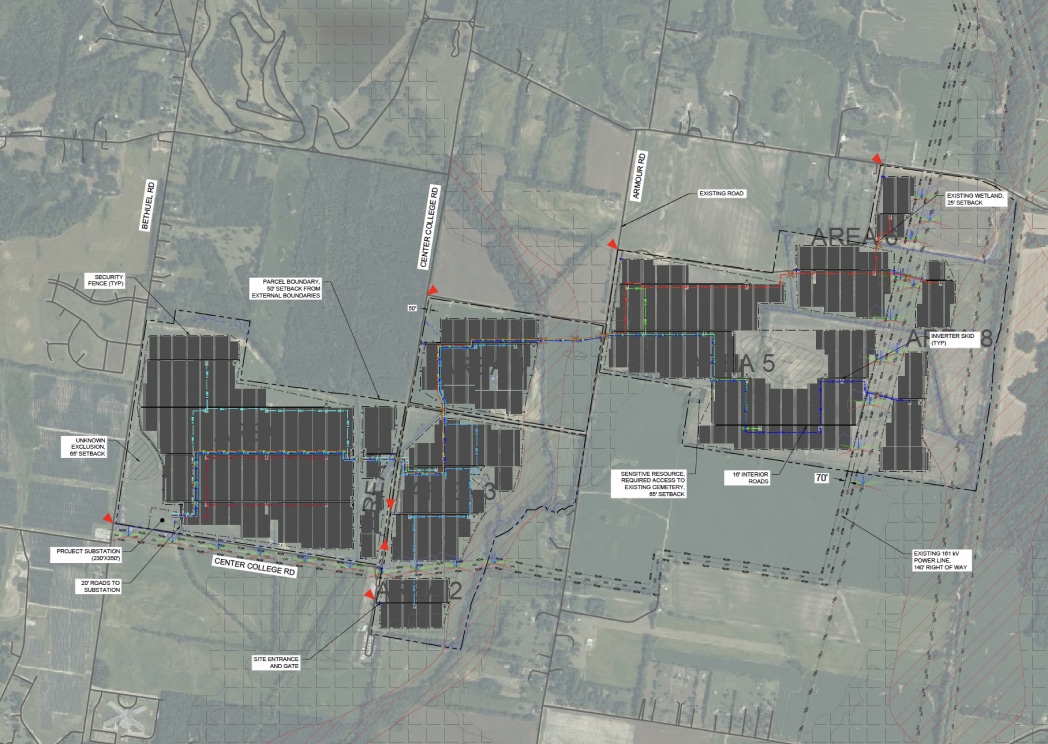 Q4 2020
TVA awards project

Q4 2020 – Q3 2022
Environmental Reviews and Permitting

Q3 2023 – Q3 2024
Construction of project

Q4 2024
Project is operational
Frequently Asked Questions About the Millington II Solar Farm
Have questions about the Millington II Solar Farm? We've compiled a list of common questions about the site, including project facts, maps, and more.
Click on the tabs below to learn more about each subject.
Yes, we always prefer to hire qualified, local firms when possible.
Silicon Ranch has a systematic approach to health and safety and is committed to the goal of zero recordable safety incidents. Accordingly, the team gives every consideration to safety and control measures as part of overall project design. In addition to his 25+ years of environmental, health and safety experience, Silicon Ranch's Director of Environmental, Health, Safety, and Security—Jim Barfield, CSP, CHST—has deep credentials to lead the company's approach to safety. Along with qualifications that include BSCP certifications, FEMA incident command, accident investigation, and OSHA 30 qualifications, he is a veteran of the United States Army as a Health Specialist of Preventative Medicine where he educated personnel on pathogen exposure, disease and occupational illness prevention, enforced military regulations governing sanitary practice and industrial hygiene, and investigated and controlled sources of pathogen and toxin exposure both inside and outside of United States borders.
This project will follow and adhere to all local, state, and federal regulations including fencing, electric codes, and signage. Additionally, the project will be monitored 24/7 so that any disturbance to the system can be quickly and safely acted upon.
Once construction commences, external to the site, we will post appropriate warnings in traffic ways to alert drivers of impending truck entrances to the roadway. Internal to the site there will be controls in place to regulate vehicle and heavy equipment on site.
The materials and components that comprise a solar energy generating facility are not hazardous to humans. Protection of the environment is very important to Silicon Ranch.
There is noise associated with the construction of the project, but Silicon Ranch seeks to minimize any potential disruption by limiting construction activities to normal business hours. Once operational, the site does not generate appreciable noise. The inverters have a quiet hum when the plant is generating during daylight hours, but the noise will not be audible beyond the property line. The inverters are typically located centrally on the project site, far enough away from neighboring houses to be imperceptible.
The project is designed with reliability and the highest performance in mind over its 40-year useful life. This 40-year view means we design the entire plant and select equipment to last up to 40 years. Unlike some developers who may focus more on meeting minimum design criteria to reduce short-term costs, Silicon Ranch places more emphasis on reliability and the requirements of long-term ownership.
At the end of 40 years, the project will either be repowered with new solar equipment or decommissioned. If the project is decommissioned, all system components will be removed and the ground will be stabilized. All costs associated with the decommissioning process will be the responsibility of Silicon Ranch, not the community or local government. As Silicon Ranch will continue to own the property and will remain a member of the community, we are invested in ensuring that decommissioning will occur safely and responsibly, and that the site remains in excellent condition.
Silicon Ranch will purchase solar panels for this project with end-of-life in mind and will seek the most cost-effective and environmentally responsible path for recycling modules at their end of life.
We are committed to leading industry advancements in recycling. To process-end-of life solar modules from Silicon Ranch projects, we have partnered with two pioneers in US-based solar industry panel recycling: SOLARCYCLE, which offers an advanced recycling platform that recovers approximately 95% of the value of solar panel materials, including glass and aluminum, as well as silicon, copper, and silicon, and First Solar, which recovers approximately 90 percent of materials. Recovered module materials will help fuel the growing U.S. solar manufacturing industry with a domestic supply of materials essential to the production of new solar panels.
Our industry leading recycling partnerships support our commitments to advance domestic solar manufacturing, a circular solar economy, and economic development opportunities in communities across the country.
Currently, the remaining part of the panels, which are made of plastics, do not have much value. SOLARCYCLE is committed to zero waste, however, and they have found off-takers who will use the plastic for secondary applications to avoid sending panel materials to a landfill.
What is it like to live next to one of our solar farms?
Hear about it firsthand from our neighbors in Hattiesburg, Mississippi.
Sign Up for Project Updates
If you would like to receive project updates via email, sign up below
"*" indicates required fields